Originally Published on April 4, 2016
Thai Red Curry Chicken can easily be made at home with pre-made curry paste and coconut milk. Make it your way with your favorite veggies, protein, or omit meat for a delicious vegan Thai dish.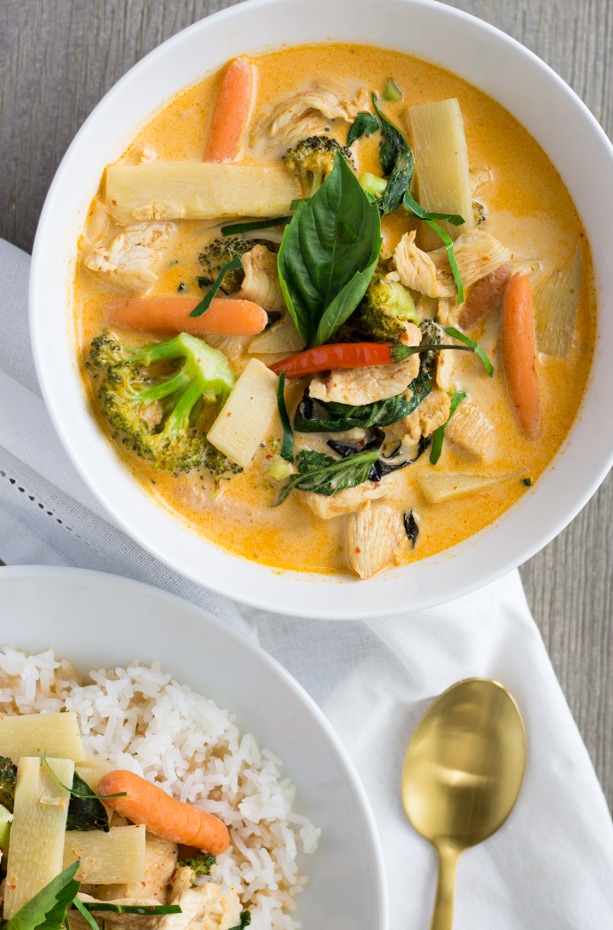 One of the first dishes I learned to make out of college was Thai curry. Mainly because it's so easy! So it seems fitting to make this my first post. Curry may look intimidating, but I promise you it can be whipped up in 30 min. If you don't have an Asian market close by, most supermarkets will carry Thai curry paste and canned coconut milk in the Asian section. I've also linked them on Amazon below. Curry can be customized with whichever veggies or meat you have on hand. The curry paste itself has a good spice level, which can be toned down by adding less paste to the dish. Or if you like hot, you can Thai chili's or fresh jalapenos to intensify the spice level.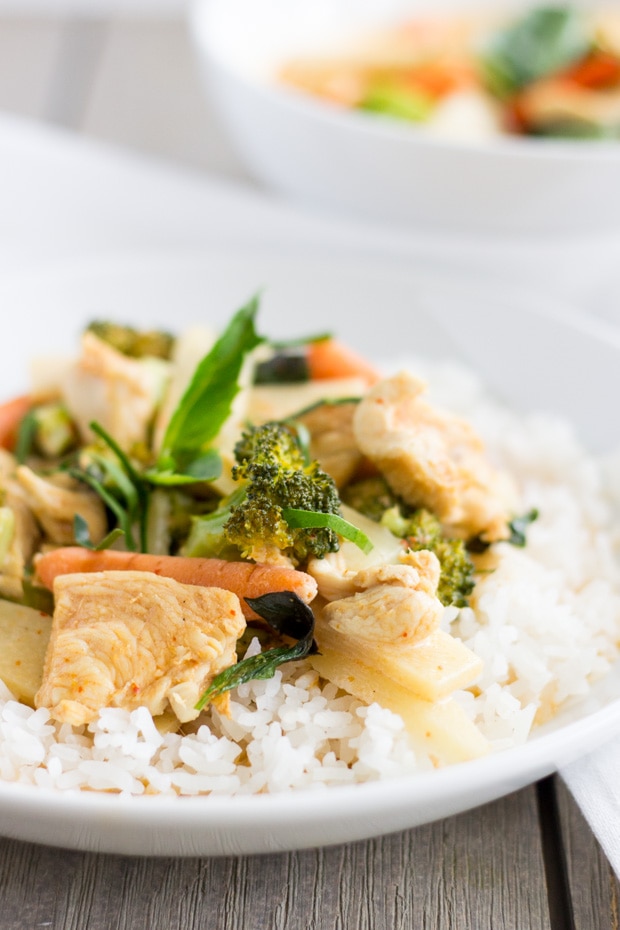 I always have a variety of curry paste on hand in my pantry, and try to keep canned coconut milk as well, for whenever we get the craving for curry. I always use full fat coconut milk because I think it tastes better and makes the curry nice and creamy. This meal comes together fast and you can make it low carb by serving it with cauliflower rice or even zucchini noodles. Both ways are delicious or go all out with some fluffy jasmine rice.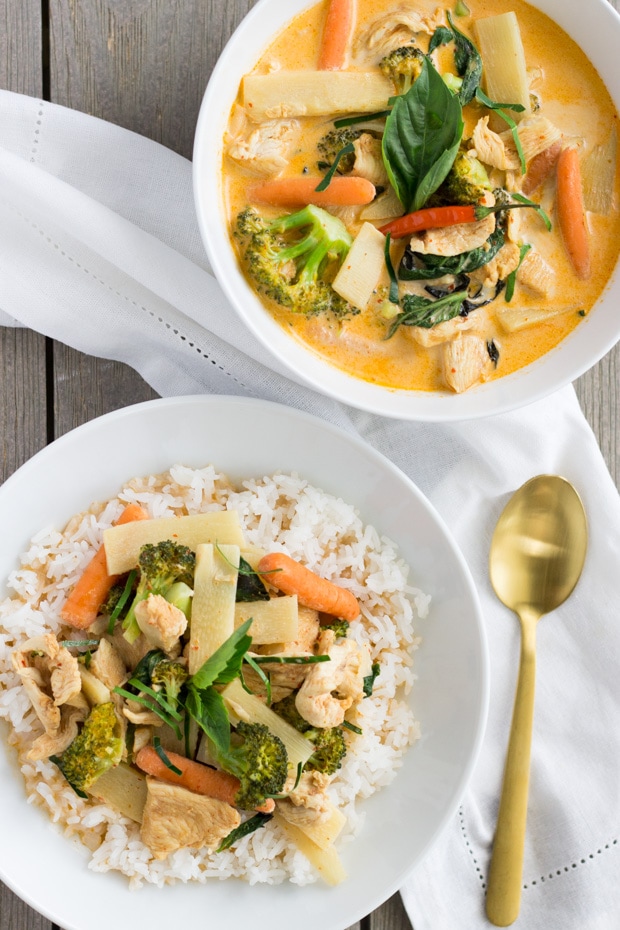 Be sure to check out my other curry recipes: Red Curry Cod, Yellow Curry, Green Curry Shrimp, Pad Prik Khing.
Ingredients
2 Tbsp Coconut oil
2 Tbsp Thai Red Curry paste (This is for a mild-medium spice. Adding more will make the curry spicier. I ended up using 3 TBSP, but you can taste it then add more if needed.
1 lb Chicken Breast, sliced into small thin pieces
1 cup Broccoli Florets
1 cup Baby Carrots, sliced them or leave them whole
8 oz can Sliced Bamboo
2 (13.5oz) Cans of Coconut Milk, I always use full fat.
1-2 tsp Thai Fish sauce (start with one and taste, then add more if needed)
1-2 Thai Chili's (Taste curry first, if more spice is desired then add chili's)
Thai lime leaves and Thai basil for garnish
Instructions
Heat coconut oil in a large pot with a lid over medium high heat.
Add curry paste and stir in oil until it becomes fragrant. About 1 minute.
Add chicken breast and coat with curry paste, cook thoroughly.
After chicken is cooked add broccoli, baby carrots, and bamboo shoots. Stir to coat all veggies in the curry paste.
Add coconut milk and give it a good stir. I add a couple tablespoons of water in the can to get all the coconut milk out.
Close lid and bring to a light boil, then stir and reduce heat to simmer until veggies become tender. About 5 minutes.
Turn off heat, taste, and see if it needs more fish sauce, chili peppers, or more curry paste.
Garnish with Thai lime leaves (cut into thin strips) and Thai Basil if available.
Serve hot with rice, cauliflower rice, or zoodles for low carb option.
Product Links:
My favorite curry paste: Maesri

Coconut Milk: Chaokoh
Fish Sauce: Thai Kitchen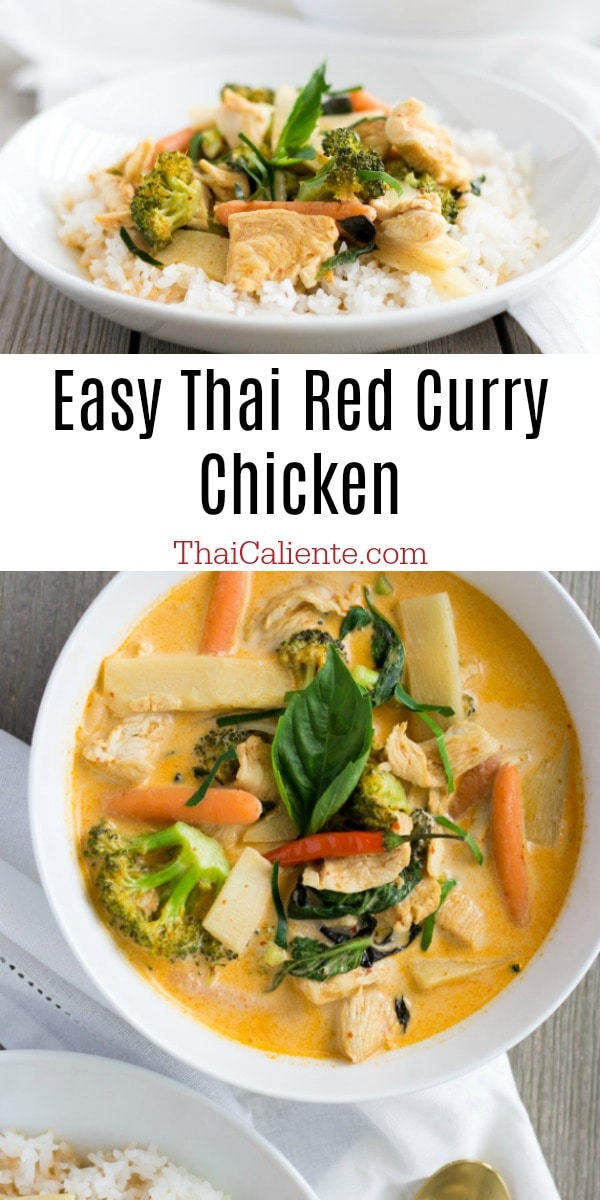 This page contains affiliate links. If you click on one of the product links above and complete a purchase, I'll receive a small commission. The price of the item does not increase with the affiliate link. Thank you for your support!
0